THAILAND | Warodom Kokhue @ Dome
Dome loves discovering new places and showing all travellers his home country. Born to the Akha Tribe in Myanmar and growing up in northern Thailand, Dome spent 12 years in monkhood before the call for adventure travel came knocking on his door. With experiences in guiding adventure tours in the South of Thailand, taking school groups on outbound travel, and spending four months on scholarship in Columbia, he is now based in Chiang Mai, where he reconnects his knowledge of northern Thailand with his thirst for travel.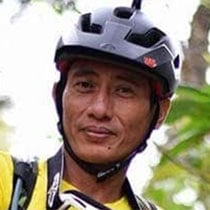 INDONESIA | Wayan Artayasa @ Arta
After receiving a bike as a present from his parents, Arta fell in love with cycling. With his bike, he cycled and explored off-the-beaten paths, close to untouched nature. As a professional bike guide since 2007, and speaking both English and German, he is an expert with off-road trails. A bike enthusiast at heart, he challenges himself by joining championships such as the Enduro Downhill and wishes to ride, guide and explore unknown places for as long as he can.